Rice uses three kinds of equipment and property ID tags. Property Accounting furnishes all tags:
A white ID tag identifies equipment with a cost of $5,000 or more.
A red ID tag identifies property with a cost of less than $5,000. Red tags are provided to departments upon request or mailed as indicated in the Transfer section, Interdepartmental Property Transfer or Sale, to assist with property control and to help identify items not subject to the biennial inventory.
A yellow ID tag identifies equipment titled to the U.S. government. This includes equipment loaned to the University by a government agency or equipment purchased by the University using research funds whose award documents state that all the title to all purchased equipment vest with the government.
Samples of the three types of tags currently in use are shown below: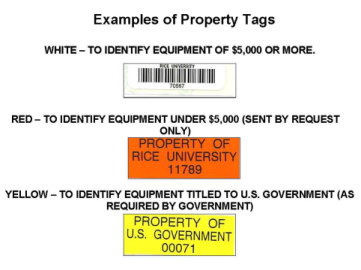 It is essential that all Asset Tags be affixed to the asset they are associated with as soon as possible after receipt. Asset Tags identify the property as under the responsibility and control of Rice University. They allow the property to be correctly identified not only by members of the department where it is located but also by the staff of Property Accounting, internal and external auditors and members of the biennial inventory crew.
Certain items of equipment do not lend themselves to being tagged, but must be inventoried, such as lasers, software, and heat sensitive items. In such cases, the item will be assigned an equipment number (PTag) but will not be tagged. It is the department's responsibility to notify Property Accounting whether or not an item may be tagged. A white ID tag will be assigned to the equipment and mailed to the department to be kept on file. It must be presented during the biennial equipment inventory. The equipment number in FAS for the non-taggable item will have the suffix 'NT' added, e.g., 12345NT, as an indication the equipment is non-taggable.