Representative Name:
Gary Headrick
Email Address:
Gary.D.Headrick@ehi.com
Cell Phone Number:
281-702-6886
Account Number:
Contract Number:
UTSSCA4413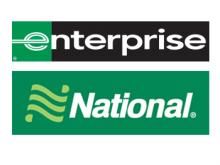 ---
About the Company and the Discount
1. Rice University has retained Enterprise/National as a preferred supplier of car rental services through the UT Supply Chain Alliance, a core partner of Rice University Procurement.
2. This contract has a specific rate structure, insurance coverage and is specifically designed for the Rice University traveler. Click here to see the rate structure in a PDF document.
3. The key to the contract benefits is make the reservation using the Rice University Account Number (UTS850.) For Rice University, if you are using Christopherson Business Travel through our Concur travel portal, this rate structure and Account Number are already loaded and automatically used when booking travel if you select Enterprise/National.
4. This contract has CDW (collision damage waiver) and SLP (supplemental liability protection) of 100/300/50
included in the rates
for business use. Additionally, it includes
RAP (Roadside Assistance Protection) at no additional cost.
***Enterprise/National provides a discount for personal use under contract ID UTS999. Use the PIN "UNI" to access these rates.***
5. Remember, if you choose to book directly through www.enterprise.com, use the PIN "RIC" to access the Rice University contracted rates.
More information about the deal:
Reservations:
Use the Rice Concur system. Its easy, the contract information is already loaded and available to you along with the rate structure pre-loaded. However, if you prefer to book online outside of Concur or via telephone, speak to a representative at our Nationwide Corporate Reservation Center by dialing: 1-800-593-0505. Give your business rental contract ID to the operator- UTS850 and your departments billing account number if you have one. Booking online outside of concur, visit www.enterprise.com or www.nationalcar.com and the pin number is RIC. To ensure you get the correct rates with the CDW (Collision Damage Waiver) and SLP (Supplemental Liability Protection), be sure to use your contract ID - UTS850.
Profile Updates: If you need to update your profile, such as credit card or drivers license expiration, please do so at https://www.emeraldclub.com. If you are locked out of your Emerald Club account, please contact Member Services at 1-800-962-7070.
Billing Accounts: Many departments currently have a billing account set up that is tied to their department's procurement card. If you currently have a billing account number in place, that number will be changing. Contact our account manager for your new account number.
Enterprise Commercial Truck Division: Our agreement now has special rates for Enterprise's Commercial Truck Division. This division offers vehicles such as 1 ton trucks, ¾ ton trucks, box trucks and stake bed trucks. To make a reservation go to: www.enterprisetrucks.com Make sure to enter your corporate ID number UTS850. We are pleased to provide this updated program to you. Please book all business related reservations with National Car Rental or Enterprise Rent-A-Car. Please feel free to contact our Enterprise/National account manager.
Emerald Club Program
To maximize the benefits of the program, you are encouraged to enroll in National's Award Winning Emerald Club program. Follow these steps:
- If you do not have an Emerald Club Membership; click on the link to sign up (complimentary) - http://www.nationalcar.com/offer/UTS850
- If you have an existing Emerald Club membership, you do not need to enroll again. It is important however that your current profile is properly tracking to the new contract identification number. The new account number UTS850 will be automatically updated in any existing emerald club membership accounts that have the previous contract ID number NA06C79 or XZ06D25 linked to them.
- If you have an existing Emerald Club number that is not linked to a contract ID, simply send your membership number and your name to our account manager so your membership can be linked to the new account number.
- If you have an existing Enterprise Plus (E Plus) membership, your Emerald Club program will now replace it so you can use one membership for both brands.
- National has agreed to status match you into the corresponding service level you currently hold with a competitor. To be status matched properly, please email your name, include your Emerald Club number (new or existing) and your current level with competitor to our account manager.