Representative Name:
Monica Buezo, Business Travel Sales Manager
Email Address:
mbuezo@thewestinhouston.com
Phone Number:
346-388-0412
Representative Name:
Joanne Crowley, Senior Group Sales Manager
Email Address:
jcrowley@thewestinhouston.com
Phone Number:
346-388-0407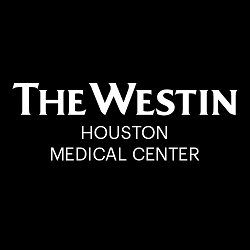 ---
News: The Westin employs germ-killing robots to fight COVID-19
Known as an avant-garde architectural icon, the Westin Houston Medical Center offers a luxurious retreat amid the innovation and breakthrough advancements of the Texas Medical Center and award-winning Houston Museum District. The newly renovated historic landmark welcomes guests into a stunning pavilion with a serene atmosphere of nature-inspired aesthetics, grand skylights and outdoor spaces with magnificent views overlooking the luscious greens of Rice University into the dramatic downtown Houston skyline.
Contract Information:
Contract Effective Dates: 01/01/2020 - 12/31/2020
Negotiated Preferred Corporate Rate will be available on a Last Room Availability (LRA) basis. Exceptions will be made for blackout dates, as noted below.
Blackout Dates: Hotel will notify Rice University of any blackout dates with at least 30 days' notice.
Lowest Rate Guarantee: The Westin Houdton Medical assures Rice University of Rate Parity.
*Blackout dates are dates when negotiated rates and special discounts/promotions may not be available. These dates typically fall on or around major holidays or other peak travel seasons. The hotel agrees to offer guest rooms during blackout dates, if available, however the corporate rate is not guaranteed.
Highlights:
Eligibility: Employees, contractors, consultants and retirees of Rice University are eligible to use the account corporate rate with proper identification and based on availability. The corporate rate may be used for Rice University business or leisure travel.
Complimentary luxury shuttle service throughout the Medical Center and University area (3-mile radius).
Orther Information:
Reservations: Individual reservations may be made by calling the Reservations Department directly at: 713-730-2404 or emailing: sales@thewestinhouston.com
Cancellation Policy: Reservations must be cancelled 24 hours prior to day of arrival to avoid a cancellation fee (equal to one-night room and tax).
All room types are available based on Single/Double and Triple/Quad occupancy at no additional cost.
Texas Hotel Occupancy Tax Exemption Certificate: This certificate is for business only, not to be used for private purposes, under penalty of law. The hotel operator may request a business card or other identification to verify affiliation with the exempt entity. Certificate should be furnished to the hotel. The certificate does not require a number to be valid.
Payment Terms: University PCard / Net 30.