Forms:
The following forms need to be uploaded in the first step in the registration (Company Details) under attachments.
Document
Required?
Form Type
Description
Need Help?

or

Required
Tax form that is used to confirm a person's name, address, and taxpayer identification number (TIN)

W-9 is for US Companies.

W-8 BEN-E is required for Non-US Companies.

or

Optional but recommended

If you do not sign up for ACH or Wire Transfer, a physical check will be mailed to the address you provided in the supplier registration.

Banking Details

ACH - Electronic Payment Sign Up via Direct Deposit for US Banks

Wire Transfer - Electronic Payment for Non-US Banks

Email suppliers@rice.edu for further assistance.
The standard payment terms for all suppliers is Net 30. By registering as a Rice University supplier and accepting a purchase order, you accept Rice University's Standard Terms and Conditions.
---
Supplier Registration Instructions:
Company Details
Contacts
Addresses
Business Classifications
Bank Accounts
Products and Services
Review
---
Step 1 – Company Details
Company Name: Please enter your full legal business name

Tax Organization Type: Select the type which best matches that on your W-9/W-8BEN-E Form

Supplier Type: Select the type of supplier that is most applicable

Corporate Web Site: This field is optional

Attachments: Attach the appropriate W-9 or W-8BEN Form, and ACH or Wire Banking Information Form

DUNS Number: Enter your DUNS Number if applicable

Tax Country: Enter "United States" if you have US EIN or SSN, otherwise enter your primary tax country

Taxpayer ID: Enter your EIN or SSN, or enter 000000000 if you do not have one.

Tax Registration Number: This field is optional

Note to Approver: Enter the unique code received in your supplier registration email

Step 2 – Contacts
This will auto-populate from the information you entered on the first tab

Click the plus button next to the word "create" to add additional contacts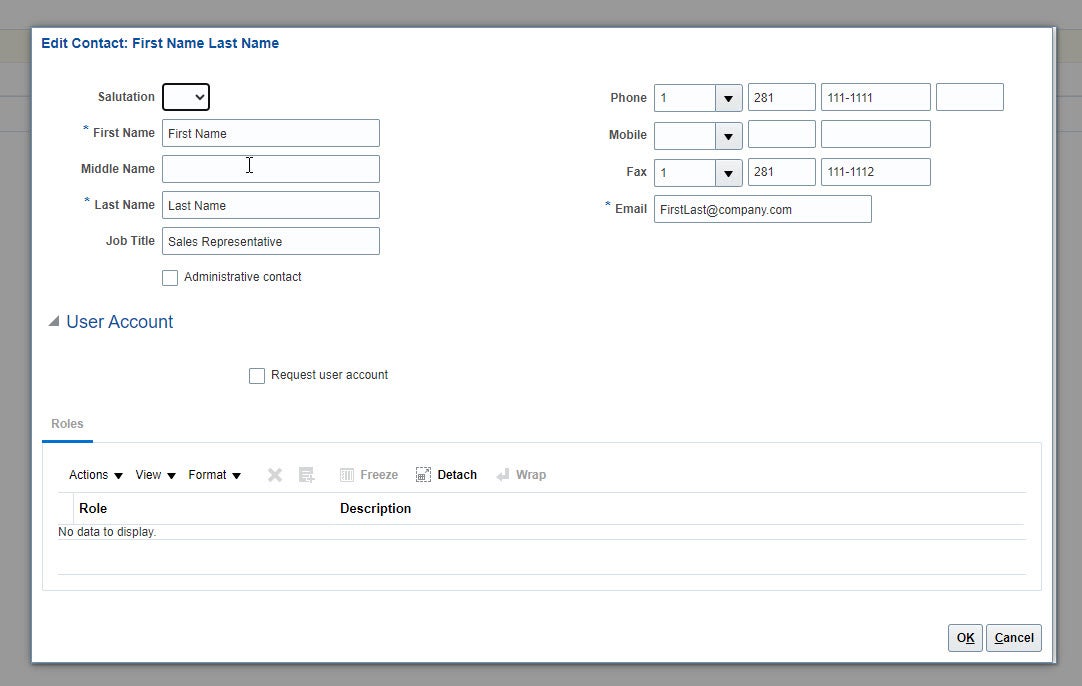 Step 3 – Addresses
Click the plus button next to the word create

Enter the zip code first and this will auto-populate the city, county, and state

Address Purpose: If you have multiple addresses, please specific address purpose and enter a separate address for each.

Remit To: Please specify remittance advice email address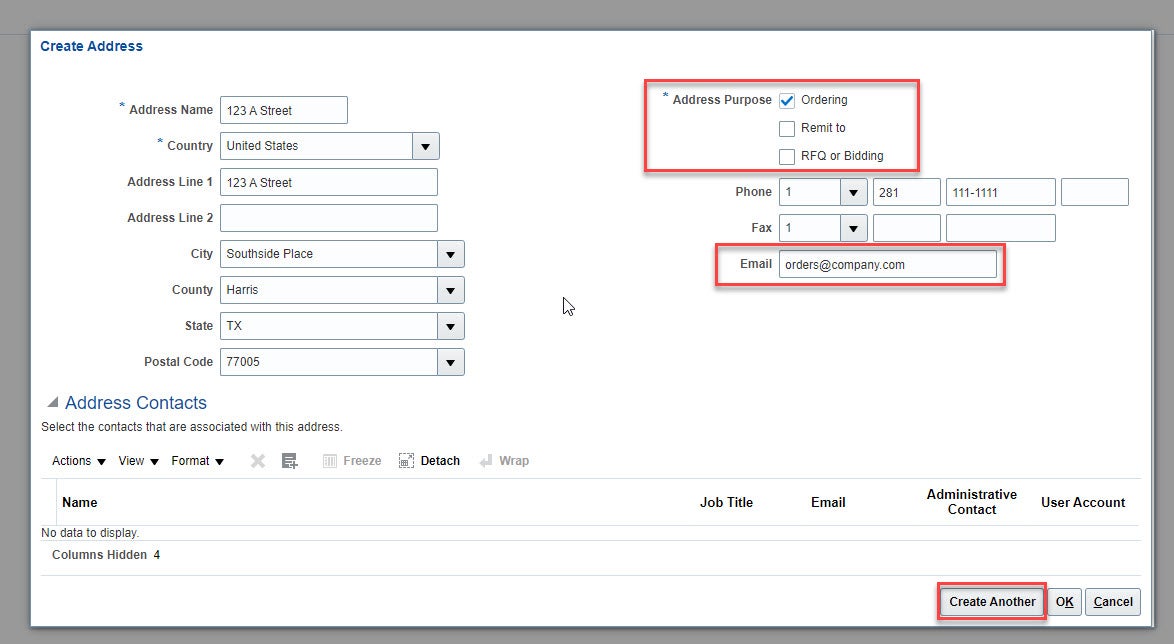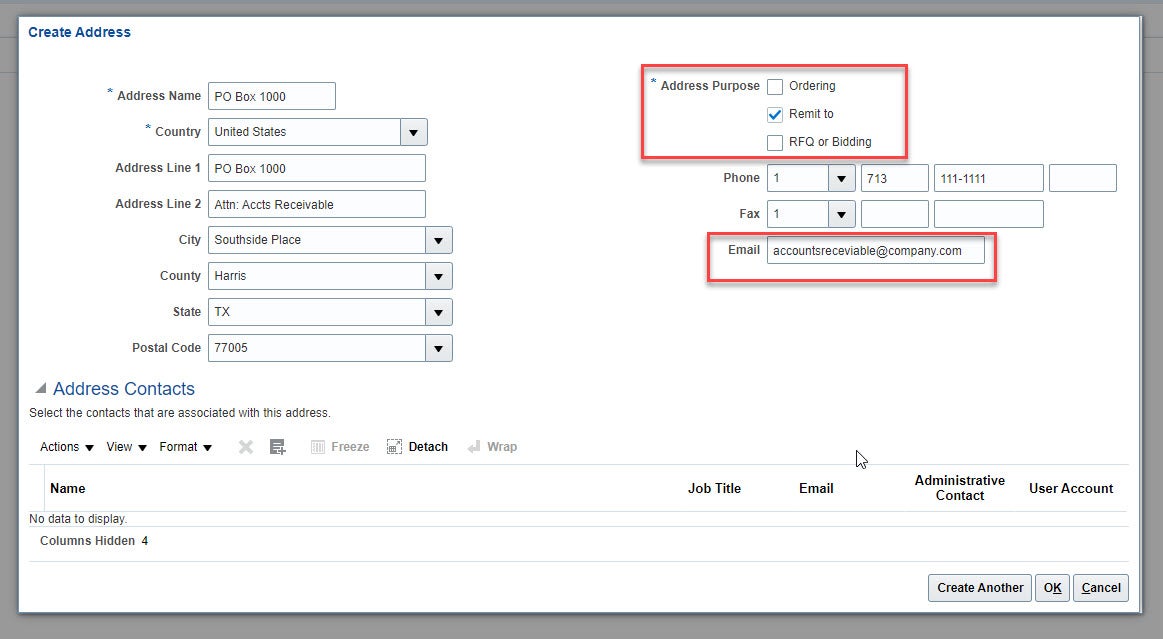 Step 4 – Business Classifications
Click the plus button to add any business classifications (HUB, Minority-Owned, Veteran-Owned, Women-Owned, Small Business), or select "none of the classifications are applicable"
Step 5 – Bank Accounts
If you would like to be paid electronically by ACH (recommended), please enter your bank information. Otherwise payment will default to check.

Enter the country as United States (please note, we cannot set up foreign banks, including Canada. For foreign accounts, please attach your Wire Information Form on Step 1 of the registration)

Bank: Select your bank name from the drop-down list (sometimes there are multiple options for the same bank)

Branch: Select your bank routing number for Paper/Electronic payments (if you cannot find the correct one in the drop-down list, try selecting a different variation of your bank name from above, or leave the branch field blank and put the correct routing number in the "notes to approver" section)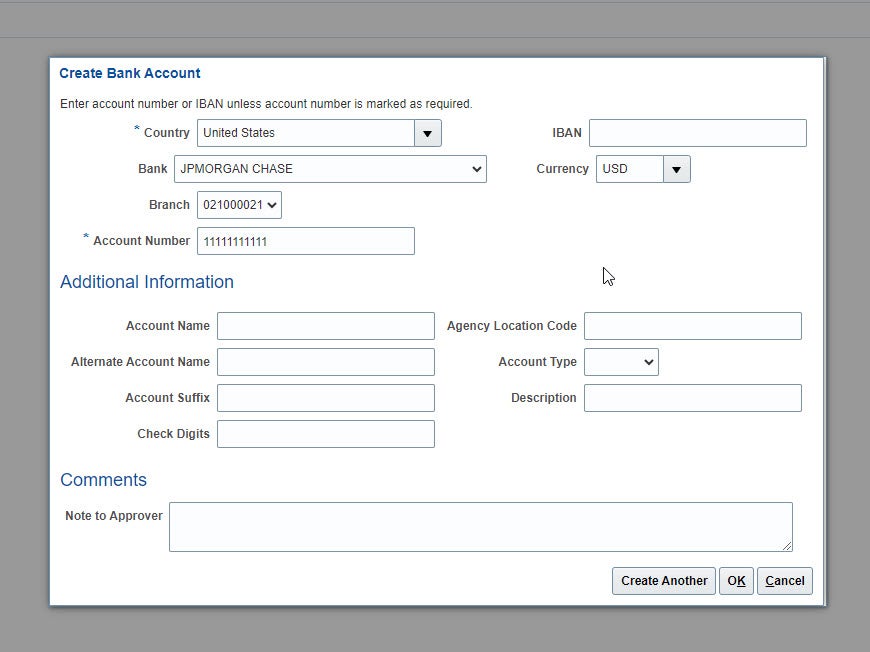 Step 6 – Products and Services
Step 7 – Review
Important: You must hit Register for us to receive your application.

If you hit save for later, Oracle will send you an email where you can click the link to access your saved information

---
If you have any questions, please contact suppliers@rice.edu. Thank you!